These are some of the clients for whom Cascade has designed and delivered training. A range of comments by participants on our courses can be viewed on our Testimonials page.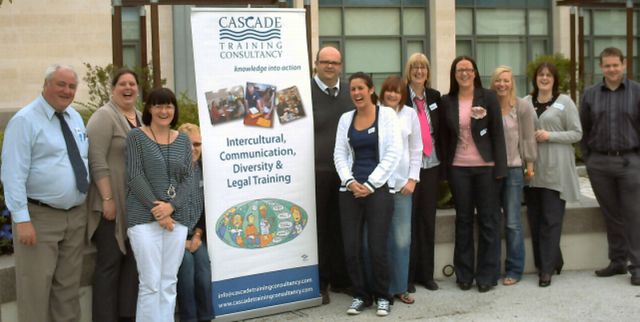 Department Of Enterprise and Employment
Department Of Social and Family Affairs
National Employment Rights Agency (

NERA

)
Health Service Executive (

HSE

)
Cherry Orchard Hospital
Fáilte Ireland
A range of Local Employment Schemes (

LES

s)
A range of Community Development Project (

CDP

s)
Dublin and Cork City Councils
Monaghan, Mayo, Sligo and South Dublin County Councils
Central Statistics Office (

CSO

)
Family Mediation Service
Women's' Resource and Development Agency (

WRDA

), Belfast
Citizens' Information Board (formerly Comhairle)
Citizens Information Centres (

CIC

s) nationwide
Money Advisory Budgeting Service (

MABS

NDL

)
Paul Partnership
Rape and Sexual Assault Centres
Survivors of Trauma (Belfast)
South Dublin Council Childcare Committee

IRD

Ballyhoura and

IRD

Duhallow
Migrant Workers Information Centres
Local Employment Schemes (

LES

s)
Community Development Projects (

CDP

s)

A Public Information Presentation entitled 'Making a Will won't kill you' is to take place in Beara, County Cork at Eyeries National School at 7.30pm on Tuesday 23 February 2016. Hosted by Eyeries NS Parents' Association and delivered by Anne O'Carroll of Cascade Training Consultancy, this jargon-free presentation gives practical tips on how to make a will, what happens if you don't and how best to provide for your loved ones, avail of tax breaks and ensure peace of mind. This event is a fund-raiser for the school and is open to all, but parents of young children or other dependents are particularly encouraged to attend. There will be a Question & Answer session afterwards and handouts will be provided.
Great outlook on Culture. I don't feel as embarrassed or confused as I did.
Relaxed and fun, yet informative.
Enjoyed day immensely. Very entertaining, good use of examples relating to relevant topics and good pictures/notes on flip chart. Anne has great energy and very easy to understand and listen to. It changes viewpoint, gives communication skills to put in place for any difficult situations/conversations etc.
I found Communicating Across Language Barriers very hands-on and relevant.
Great group size meant all voices were heard.
Cascade tutors were very engaging and made the programme enjoyable.